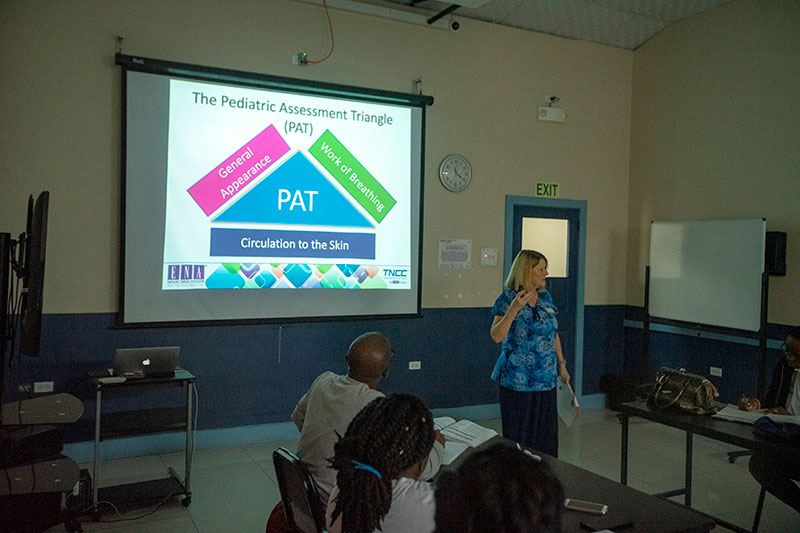 Pediatric Advanced Life Support (PALS) is a two days classroom, video-based, Instructor-led course that uses a series of simulated pediatric emergencies to reinforce the important concepts of a systematic approach to pediatric assessment, basic life support, PALS treatment algorithms, effective resuscitation and team dynamics.
PALS is geared towards healthcare providers who respond to emergencies in infants and children (Physicians & Registered Nurses) and for personnel in pre-hospital emergency response (Paramedics)
Tuition includes course e-manual, PALS pocket reference card set, e-card & e-certificate. Certification is valid for two years.
Participants will learn:
High-quality Child CPR AED and Infant CPR
Recognition of patients who do and do not require immediate intervention
Recognition of cardiopulmonary arrest early and application of CPR within 10 seconds
Apply team dynamics
Differentiation between respiratory distress and failure
Early interventions for respiratory distress and failure
Differentiation between compensated and decompensated (hypotensive) shock
Early interventions for the treatment of shock
Differentiation between unstable and stable patients with arrhythmias
Clinical characteristics of instability in patients with arrhythmias
Post–cardiac arrest management
Course completion requirements:
A minimum pass mark of 84% on the written test plus
Actively participate in, practice and complete all learning stations
Pass 2 PALS core case scenarios (1 cardiac and 1 respiratory or shock) as a team leader, providing appropriate medical treatment and demonstrating effective team dynamics
Pass the 1- and 2-Rescuer Child BLS with AED and 1- and 2-Rescuer Infant BLS Skills Tests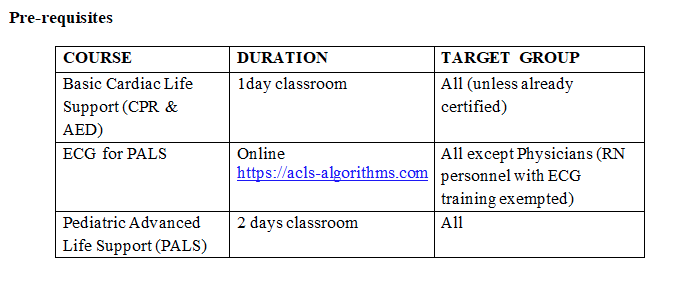 Application Process
Click the Apply for this course button where you'll be teaken to or registration form.