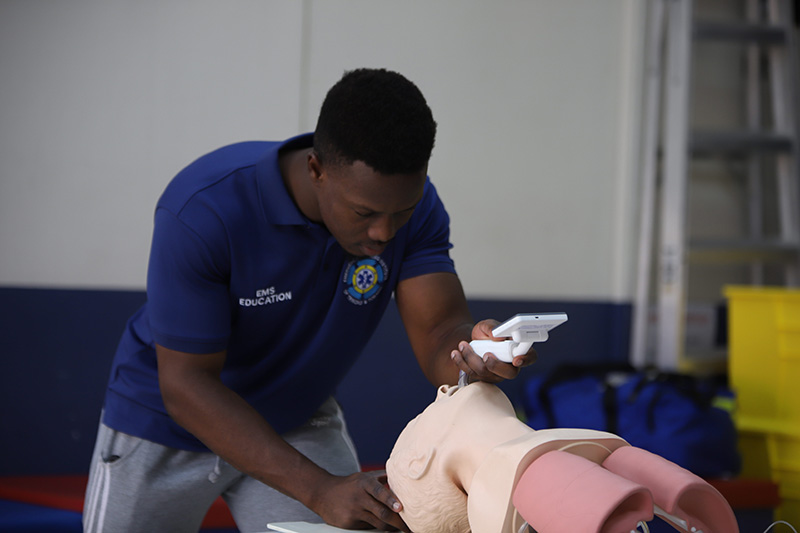 Information in this section pertains to individuals whom are EMT trained and are pursuing the Paramedic educational programme.
The Paramedic is an allied health professional whose primary focus is to provide advanced emergency medical care for critical and emergent patients who access the emergency medical system. This individual possesses the complex knowledge and skills necessary to provide patient care and transportation. Paramedics function as part of a comprehensive EMS response, under medical oversight. Paramedics perform interventions with the basic and advanced equipment typically found on an ambulance or other pre-hospital healthcare environment.
This is the highest level of pre-hospital education. The depth and breadth of educational content is more than the Advanced EMT.
The Paramedic programme will be a minimum of fourteen hundred (1400) contact hours extending over a period of fourteen months. This includes classroom and clinical/ambulance rotations. The ambulance rotations may be International (USA) and travel, accommodation expenses are the responsibility of the student.
Additional resources provided by E.T.I.T.T
AHA Advanced Cardiac Life Support (ACLS) e-book (separate certification awarded)
AHA Pediatric Advanced Life Support (PALS) e-book (separate certification awarded)
Fisdap skills tracker
Online LMS, Interactive lectures, practice quizzes
Click here for Paramedic textbook content
Click here for Paramedic entry requirements & textbook purchasing information
Application Process
Click the Apply for this course button where you'll be teaken to or registration form.