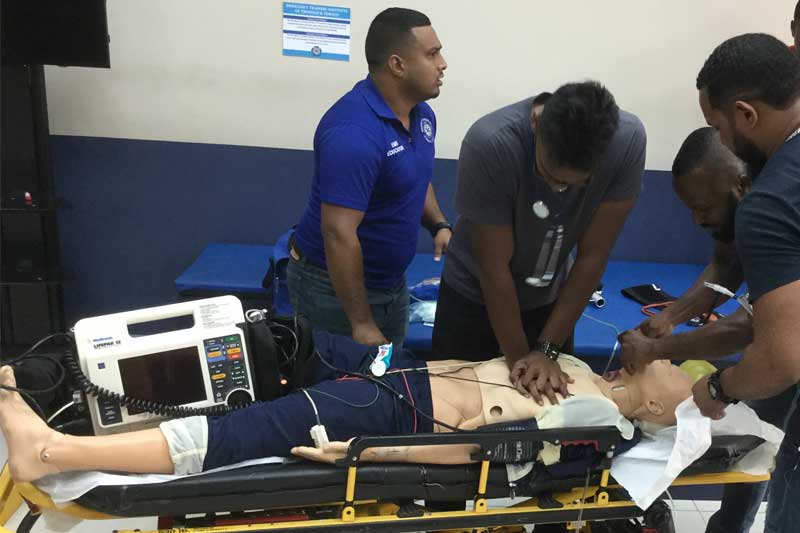 Due to Covid 19 restrictions, this programme is offered as a Hybrid (theory online & labs in classroom) until further notice. CLICK HERE FOR REGISTRATION FORM
Information in this section pertains to individuals whom are EMT trained and are pursuing the AEMT education. The ETITT Advanced EMT programme is Approved by the Accreditation Council of T&T and is also GATE approved for Tuition only, all other resource materials are the student's expense.The programme extends for a minimum of nine months duration & offers a Diploma award upon successful completion. We offer the most challenging, robust and recognized EMS certifications in Trinidad & Tobago. Choosing ETITT means you are committed to a high standard of EMS Education.
Classes are primarily conducted two full days per week. Successful students will be eligible to challenge the USA National Registry Advanced EMT exam and obtain this prestigious certification.
Student learning will focus on expanding the level of understanding of human anatomy and physiology, disease process, patient assessment and stabilization, proper use of equipment such as defibrillators and advanced airway management. In addition, the student will learn about intravenous therapy and pharmacological interventions.
Hospital Emergency Room rotations are required for course completion. This is arranged by E.T.I.T.T administration.
Requirements
Students are expected to meet the basic requirements for entry into the programme.
Must be a minimum of 18 years of age
Citizens of T&T (for GATE applicants) & Caricom citizens/residents
Holder of current EMT certification (NREMT certification would be an asset)
Four (4) CSEC passes (Grades I-III) or above. Mature entry route for individuals with three (3) CSEC passes (Grades 1-111) and an admissions test. Students would be required to pay an additional TT$510.00 for the admissions test to determine their eligibility for the programme
AEMT Pre-Assessment (pre-course) exam
Successful completion of ETITT's pre-course in Anatomy and Physiology with a grade of 70% or better
EMT experience an asset (ambulance or other healthcare setting)
Must also have the following:
Current professional rescuer CPR/AED certification (AHA or equivalent)
Current Immunization (Hepatitis B, Tetanus, TB screening, MMR)
Current police certificate of good character
Special note: Currently, ETITT is reviewing its Covid 19 vaccination policy for programme admission and/or clinical rotations. This is to be updated
AEMT required textbooks:
Jones & Bartlett – Advanced Emergency Care & transportation of the sick & injured 3rd edition
Anatomy & Physiology for Health Professionals 3rd edition
Advanced Cardiac Life Support (ACLS) & Pediatric Emergency Assessment, Recognition & Stabilization (PEARS) 2020 edition (provided by ETITT)
Application Process
Click the Apply for this course button where you'll be teaken to or registration form.